Canary Islands
destination for Epic Motorcycle Adventures
The next-generation of rental and tours with bases in Gran Canaria and Tenerife and a fleet of premium Honda and Ducati motorcycles.
Gran Canaria Booking
Tenerife Booking
Ready for a great adventure? With us, you can uniquely explore the Canary Islands. We rent motorcycles in Gran Canaria and Tenerife, making it possible for you to discover the captivating beauty of these islands. Each island is distinct, with its own stunning landscapes.
Tenerife
Av. Antonio Dominguez, 9 Local, N° 1
Playa de las Américas, 38650, Tenerife
tenerife@canaryride.com
+34 822 680 805
Gran Canaria
Calle Rafael Almeida 16,
Las Palmas de Gran Canaria, 35007, Gran Canaria
info@canaryride.com
+34 828 685 006
Explore Canary Islands on Motorcycle
Everything You Need for Your Ride
24/7 Roadside Assistance: Enjoy peace of mind knowing we're always available to help
Unlimited Kilometers: Ride as far and wide as you want with no distance restrictions
Driver's Helmet: Safety first – a helmet for the driver is provided with every rental
Driver's Gloves: Comfort and protection for your hands on every ride
All Taxes Included: The price you see is the price you pay, no hidden extras
Third Party Insurance: You're covered in case of accidents when is not your fault
Phone Holder with Charging: Stay connected and powered up on your journey
Full-to-Full Fuel Policy: Pick up and drop off with a full tank, no extra fuel charges
24-Hour Rental Periods: Rent for as long or as short as you need, with flexible 24-hour periods
Map with Local Tips: Explore like a local with our insider tips and recommended routes
Travel with Trust: Our Comprehensive Motorcycle Maintenance
We firmly believe that maintaining our motorcycles in top-notch condition is crucial to ensuring the safety of our customers and providing them with the exceptional experience they deserve. At Canary Ride, we're committed to upholding the highest standards for our fleet and for your ride.
Play Video
View full video
Delivery to Your Hotel in Gran Canaria
Doorstep Delivery: Have your chosen premium Honda or Ducati motorcycle delivered straight to your hotel.
Convenience: Skip the pickup lines and start your adventure as soon as you step out of your hotel.
Flexible Scheduling: Arrange a delivery time that suits your travel plans and itinerary.
Personalized Service: We're here to help you get the most out of your Gran Canaria motorcycle experience, providing local insights and suggestions.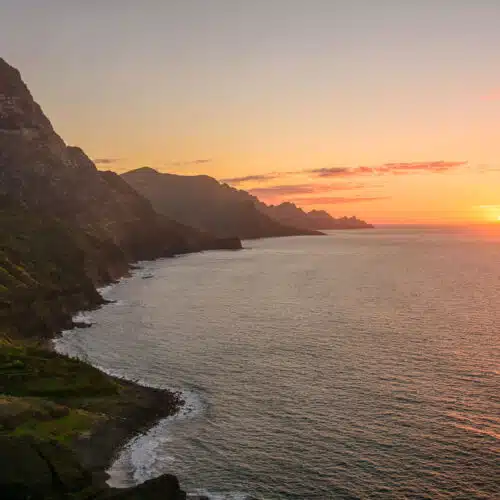 Gran Canaria: The Perfect Destination for Motorcycle Enthusiasts
If you're a motorcycle enthusiast looking for a new place to explore, look no further than Gran Canaria. This beautiful island, located in Europe, offers…
Exploring the Canary Islands on a Motorcycle: The Ultimate Guide
Exploring the Canary Islands on a Motorcycle: The Ultimate Guide Get ready for the ride of your life as we delve into the thrill and…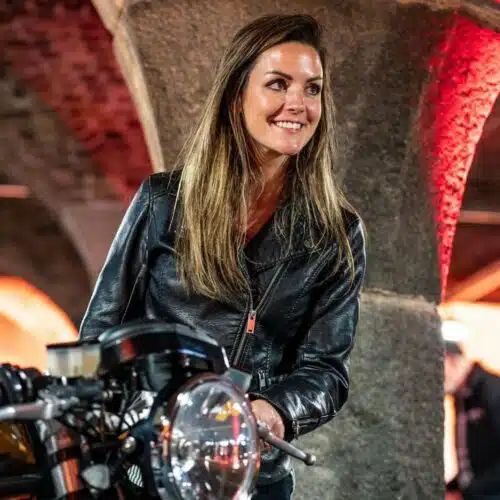 "I have been to the Canary Islands a few times now and have always taken advantage of Canary Ride motorcycles. I was always 100% satisfied – the service, the bikes, the route recommendations, everything always worked perfectly and I can look back to many wonderful experiences!

Juliane Eger

Freelance Motorcycle Journalist
Ondrej originally from the Czech Republic founded Canary Ride in 2016, and he has been riding motorcycles for over 18 years. After studied a motorcycle mechanic school, he got into a track racing industry and eventually run a website about the community in Czech. Ondrej speak Czech, English and Spanish.
In 2013 he started working in Spain and the rest of Europe with ex-MotoGp rider Simon Crafar who has been running his company Motovudu where he was teaching and coaching private riders on the circuits.
He also likes video and photography, his dog Choco and exploring new places and eating new food.
Alex is a translator and interpreter who speaks English, Spanish and German fluently. He was born in Gran Canaria but moved to Tenerife in 2022 to join CanaryRide as a store manager. He has a passion for motorbikes and owns a 2021 Honda África Twin that he loves to ride around the island.
Alex has a rich cultural background and experience. He lived in Germany for three years and studied Translation and Interpreting. He also holds a master's degree in his field and has been working as a translator since 2018. He enjoys traveling and exploring new places and has lived in four different countries so far.
When he is not working or riding, Alex likes to stay active and have fun. He is interested in all kinds of sports. He also likes to discover new restaurants and cuisines and share them with his friends and family.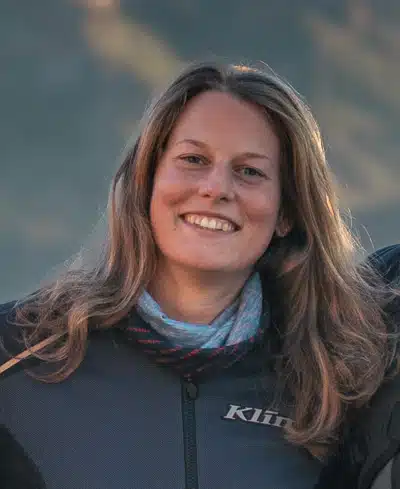 Jennifer, from Germany, knew she liked motorcycles since a friend took her as a pillion when she was 17 but didn't take her licence until she was 25. Since she came to Gran Canaria in 2018 there is no week that passes without her riding a bike. Jennifer speaks native German and also English, Spanish, French, and learning Italian.
Besides that passion she also likes to travel (and apply the 4 languages she speeks), the ocean and all kinds of sports such as running, yoga, surf etc.
Katinka is part of the Tenerife team. She was born an raised in the Netherlands, where she fell in love with motorcycles at her first ride. She had a dream of riding across the world, from her home country to New Zealand, but the pandemic changed her plans. Instead, she embarked on an epic journey around Europe on her trusty 2004 Honda Transalp 650.
After 1.5 years and 50,000 km of exploring stunning landscapes and roads, she arrived in Tenerife and decided to stay. She believes that nothing can compare to the beauty and diversity of the Canary Islands, where she enjoys sharing her passion for motorcycles with others.
Katinka is also a big animal lover and a nature enthusiast. When she is not on her bike, she likes to hike in the mountains, swim in the sea or work on her motorbike.
Meet Javier Otero, a pivotal part of the Canary Ride team. Born and raised in Gran Canaria, Javier has been around workshops, race cars, and motorcycles since he was a child. This early exposure sparked his interest and allowed him to gain significant mechanical experience.
He has worked in various roles throughout his career. He spent time at Motonity, a shop specializing in motorcycle equipment and clothing, and even took his skills abroad to Denmark, where he worked as a specialist and mechanic on boats.
A lover of the outdoors, Javier is an enthusiastic diver and a proud owner of a Honda Africa Twin. He frequently indulges in off-road trips on his bike, exploring the breathtaking landscapes of Canary Islands.
At the age of 27, Javier is not just a skilled mechanic capable of fixing almost anything but also an avid learner. He is currently pursuing an Engineer's degree in Engineering/Industrial Management at the Universidad de Las Palmas de Gran Canaria.
Javier's vast mechanical knowledge and love for motorcycles make him an invaluable asset to Canary Ride. With his help, we continue to offer top-notch services to our clients.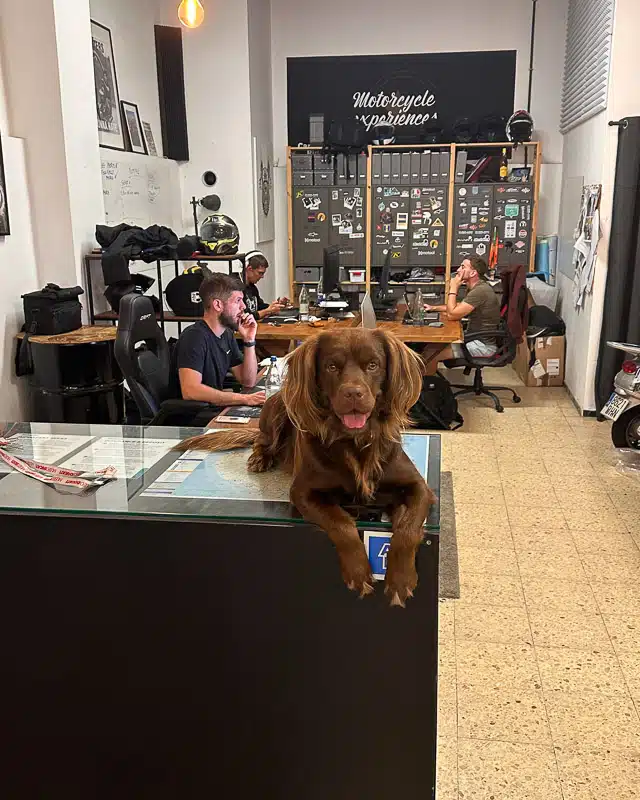 Choco was born in Fuerteventura but grow up in Las Palmas. You could meet him sometimes in Gran Canaria shop, protecting all the precious motorcycles.
Travelling by two wheels offers a freedom unmatched – it's an adventure in its purest form.
Enough Scrolling, Let's Ride!